Advantages of Pay-Per-Click
Top of the search engines within the hour
Stop and start any time you like
Control costs – budgeting is easy
Measurement is easy - in real time
Detailed feedback – instantly
You only pay for positive results
Get to the Top Fast with PPC Marketing
To bypass your competitors and be able to occupy a top position on Google, Yahoo or MSN for your product or service is surely worth paying for. The only question is how much will it cost, and you don't want to be paying too much!
If you throw money at it, you will always be at the top spot, but there are subtler ways to get value for money. By properly optimising your pay-per-click advertising campaign can drastically reduce your cost per click (CPC), so that you could be paying much less than your competitors for a better position. This is because the price you pay isn't just a function of your maximum bid, but also of your ads' relevancy and quality score. This is where we come in. We can effectively manage your ad campaign and save you money, covering our modest management fees several times over.
Qualified and Experienced PPC Management
Our PPC Campaign Managers have acquired their skills by a mixture of formal education, industry training and above all, by hands-on experience of running many pay per click advertising campaigns. You will be looked after from day one by Dr Peter Mason PhD and Geraint Mason MSc, who lead the teams that will be managing your account.
Call free on 0800 980 5000 or fill in our contact form to find out more about how we can help your business prosper further online.
Accreditations & Staff Memberships: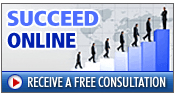 A fraction of the cost of TV or print advertising for greater return.

Highly targeted advertising to people who are searching for your product or service.

Only pay for visits to your site - not ad impressions.

Detailed metrics and reports to measure your ROI.

A highly qualified team managing your campaign.